Description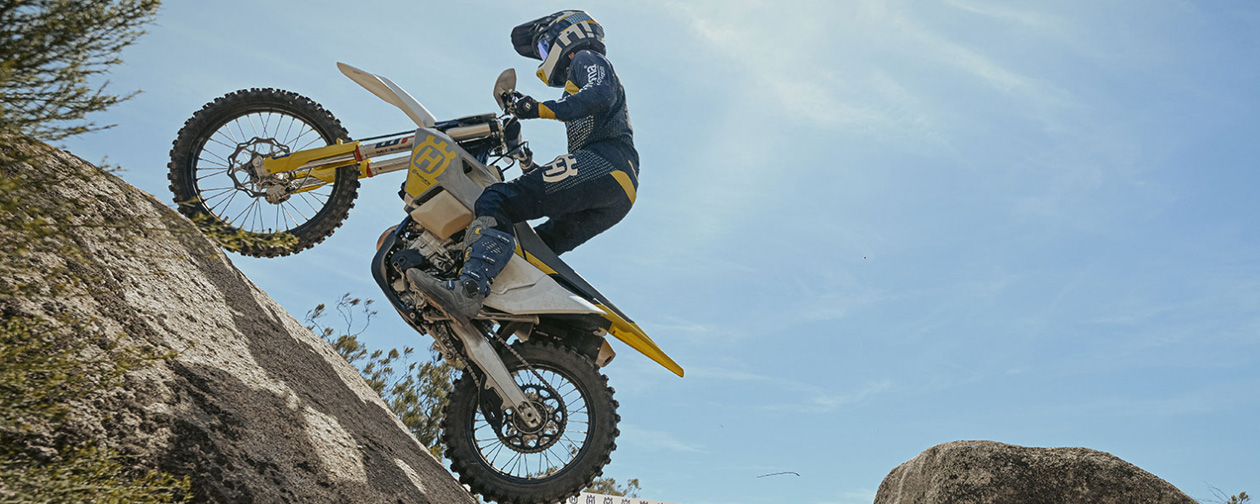 Husqvarna FX 350 Features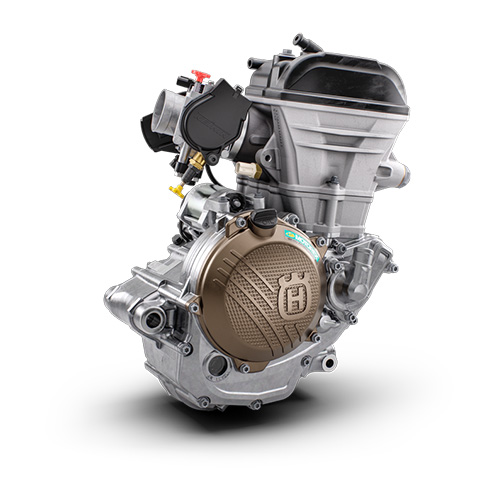 Engine
The new FX 350 engine is designed to deliver maximum performance. For 2023, the repositioning of all major engine components and shaft arrangements enhances overall handling with the design improving anti-squat behavior from the whole chassis. The engine is tilted two degrees backwards and is 8 mm shorter in height to further centralize mass. Weighing just 59.9 lb, the new 350cc 4-stroke engine produces a higher and more usable power output.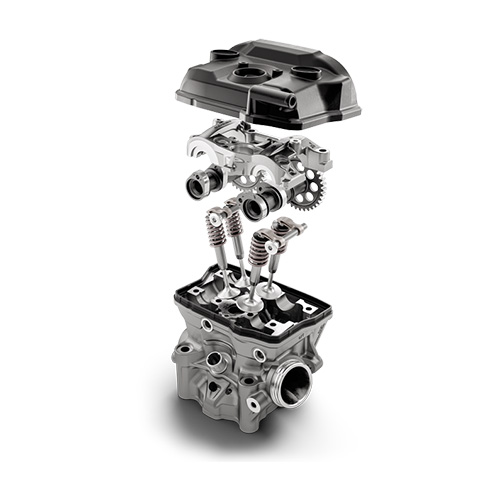 Cylinder Head
Fully redesigned for 2023, the DOHC cylinder head offers improved durability and serviceability, with Diamond Like Carbon (DLC) coated finger followers to guarantee minimal friction and optimal performance. These actuate large titanium valves, 36.3 mm for the intake and 29.1 mm for the exhaust, which optimize gas flow for strong, usable power across the rev-range, all the way up to the 13,400 rpm limit. Revised valve timings work in perfect harmony with the redesigned camshaft which now features a new bearing bridge designed to increase stiffness and improve serviceability.
Cylinder and Piston
An 88 mm bore and 57.5 mm stroke cylinder is professionally engineered from high-strength aluminum for maximum reliability and houses the high performance forged bridged-box-type piston from CP. For 2023, the compression ratio is increased to 14.6:1 for improved torque and peak power.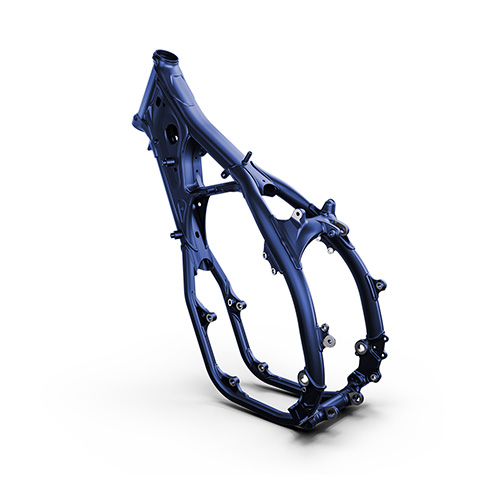 Frame
The proven chromium molybdenum steel frame is refined for 2023 to reposition rotational masses inside the engine which together with a new shock mounting position, significantly improves anti-squat behavior of the chassis. With optimized wall thickness in high-stress areas improving reliability, the frame continues to offer advanced geometries and flex characteristics aimed at providing unparalleled rider feedback, energy absorption, and exceptional straight-line stability.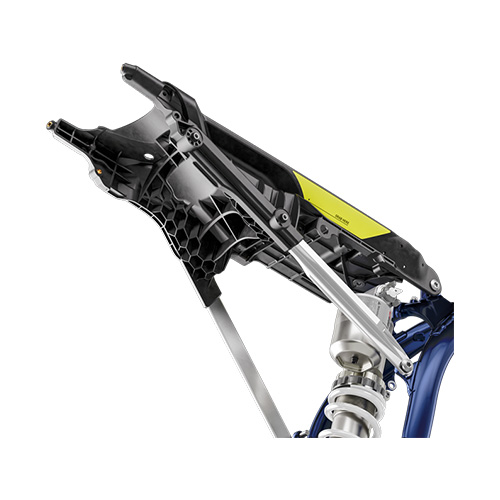 Re-enforced Aluminum Subframe
Made from 60% polyamide and 40% aluminum, the new two-piece subframe for 2023 ensures exceptional strength and durability at an overall weight of just 3.9 lb. The lower subframe spars and frame mounts are manufactured from cast aluminum for significantly improved reliability. The upper section of the subframe is made from injection-molded polyamide to enable specific flex characteristics and ensure a lightweight construction.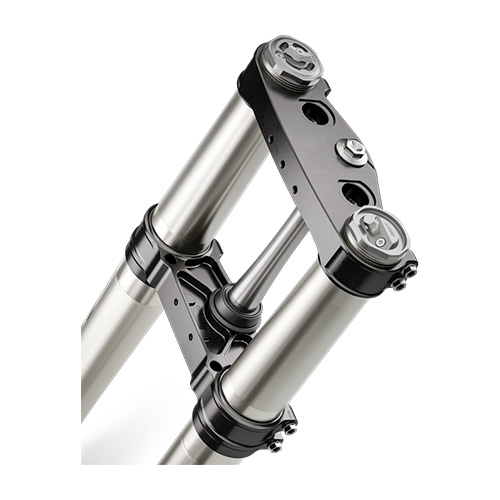 Triple Clamps
Matching the new frame design and suspension set-up, the CNC-machined triple clamps provide precisely calculated geometry for increased stability. Customised handlebar flex can be achieved by the new handlebar clamp which offers two mounting options – rubber-damped for less vibration or fixed for enhanced front-end feedback. The upper triple clamp is stiffer to ensure a smoother fork action and plays a vital role in the perfect alignment of the front wheel for superior handling.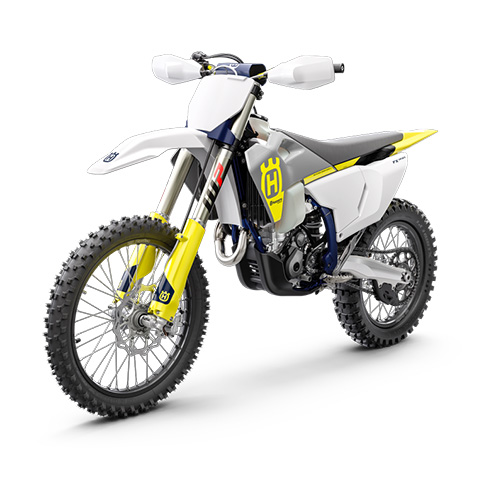 Bodywork
Clean, Swedish-inspired design and ergonomics are tailored to deliver exceptional comfort and control, enabling riders to perform at their best for extended periods of time. Adapted after countless hours of testing, the contact points have been repositioned for 2023 and together with a flatter seat profile, riders can move freely on the motorcycle for total control at all times.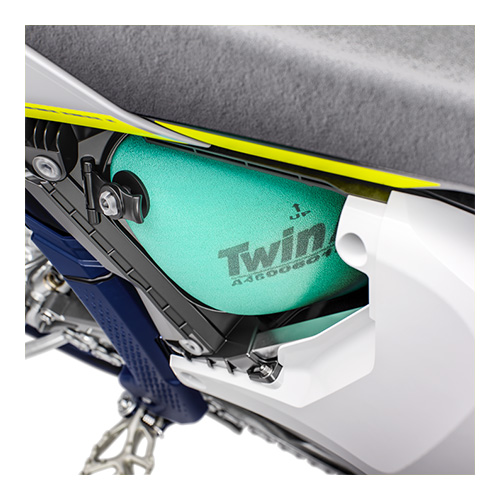 Airbox
Easy access to the TWIN AIR filter is possible without tools, for quicker cleaning and easier maintenance. Precision inlet ducts maximise airflow and offer increased levels of filter protection.
Hydraulic Clutch
The high-performance Brembo hydraulic clutch system guarantees even wear, near maintenance-free operation and perfect modulation in every condition. Meaning that play is constantly compensated so that the pressure point, and function of the clutch remain identical in cold or hot conditions, as well as over time. Countless hours of race-focused testing have proven the high-quality, Italian-made Brembo hydraulic systems' exceptional reliability.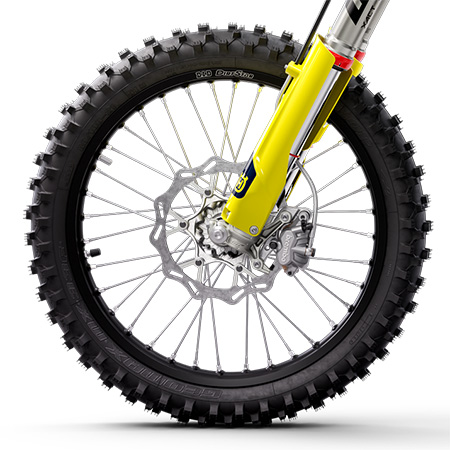 Wheels and Tires
CNC-machined hubs and high-strength alloy rims by D.I.D are finished in striking black. They feature laser engraved logos and are fitted with a DUNLOP GEOMAX MX33 tire on the front and DUNLOP GEOMAX AT81 tire on the rear which ensure progressive cornering and superior traction on a variety of terrain.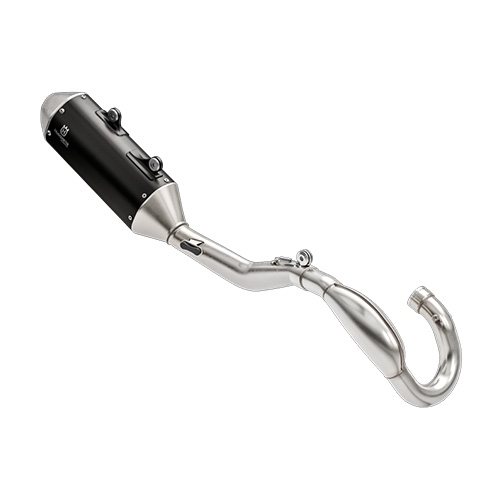 Exhaust System
Tailored specifically to the FX 450 engine using an innovative 3D design process, the header pipe ensures maximum power across the rev range. The muffler features an aluminium mounting bracket for strength at the lowest possible weight, with an advanced internal construction ensuring excellent noise damping without sacrificing performance.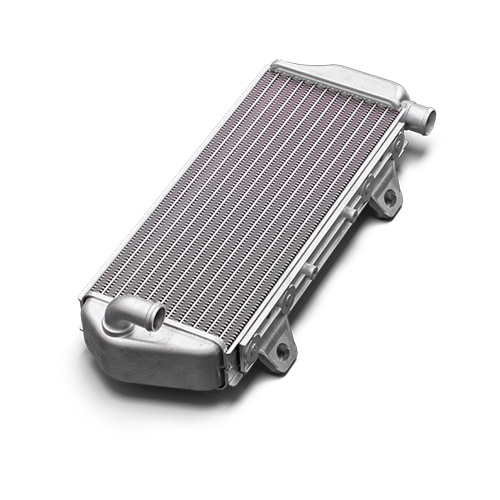 Cooling System
Manufactured from high-strength aluminum, the radiators are designed using Computational Fluid Dynamics (CFD) to channel air in the most effective way. A large center tube channels coolant through the frame to reduce pressure at this point in the system for a more consistent flow while a new internal thermostat further enhances reliability.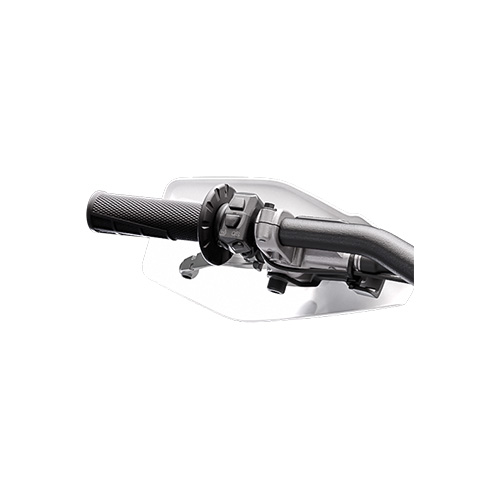 Map Select Switch
Designed for easy, one-finger operation, the map switch is standard on the FX 450 and serves multiple functions. It allows the riders to easily select between 2 engine maps, activate the launch control or toggle the traction control feature.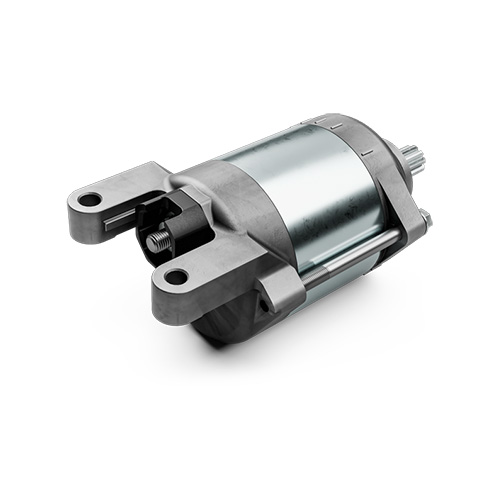 Estart
For personalised power delivery, the FX 350 has two built-in engine maps as standard. Map 1 offers linear, predictable power, while Map 2 is more aggressive for a sharper throttle response and more explosive power output.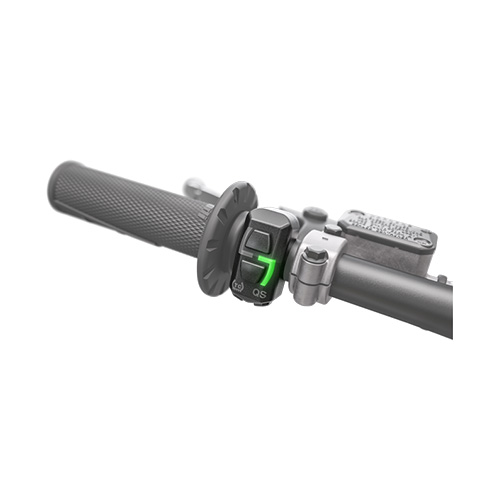 Mapping
For personalized power delivery, the FX 350 has two built-in engine maps as standard. Map 1 offers linear, predictable power, while Map 2 is more aggressive for a sharper throttle response and more explosive power output.